Meet our team.
The truth is that our residents and our team members make Ecumen CountrySide the remarkable community it is. We are exceedingly proud of our retirement community staff—they are some of the finest individuals in Owatonna, MN!
Their biographies are below, but the best way to get to know them is to stop by and say hello.

Kelly Maas
Executive Director
Kelly Maas Executive Director Kelly began as the Sales and Marketing Manager at Ecumen Brooks and CountrySide in 2015 and has recently taken on the role as Executive Director. After earning her A.A. degree with Business Emphasis from Riverland Community College, she graduated from Concordia University in 2012 with a bachelor's degree in Marketing and Innovation. In 2015, she graduated from the Owatonna Leadership Program and is also a graduate of the Ecumen's Velocity Leadership Development Program. A long-time resident of Owatonna, she has two children, Jordyn and Devin.

Autumn Van Ravenhorst
Assistant Housing Director
Autumn began at Ecumen Brooks & CountrySide as the Sales & Marketing Manager in July of 2018. She transitioned to Assistant Housing Director in September of 2020. She holds a Bachelors in Communications with an emphasis in Public Relations and has a background in marketing, sales, and customer service. She has always been involved in her community, holding positions for the Steele County Historical Society, Owatonna Chamber of Commerce & Tourism Young Professionals, Steele County Safe & Drug-Free Coalition, Toys for Tots, and others. Autumn lives in Blooming Prairie with her two boys and many fur babies.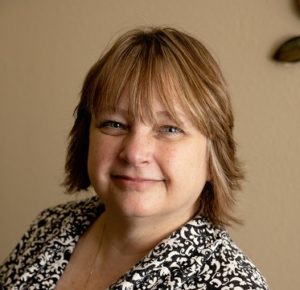 Rebecca Slacter-Pobanz
Clinical Director-Registered Nurse
Becky was raised in Owatonna, graduated from Owatonna High School and continues to make Owatonna her home. She started her career working in a nursing home and held the positions of Floor Nurse, Staff Educator and Director of Nursing. Becky also worked for the American Red Cross, and other assisted living communities. Most recently, she held the positon of Clinical Director at Ecumen New Richland. Becky and her boyfriend share a blended family of six children and ten grandchildren.

Amy Johnson
Licensed Practical Nurse (LPN)
Amy has worked as an LPN at both Ecumen CountrySide and Brooks since 2006. Amy attended Winona State University, Luther College in Decorah, Iowa, and NIACC in Mason City, Iowa. A fan of Iowa Hawkeye football and the Seattle Seahawks, she and her husband raise beef cattle and grow soybeans, corn and alfalfa. She has three grown sons, two granddaughters and a grandson

Linda Schrom
Business Office Manager
Linda began with Ecumen CountrySide as the Resident Services Coordinator in July of 2017 and transitioned to the Business Office Manager for both Ecumen Brooks & CountrySide in January of 2020. She has a deep background in senior care and has worked in healthcare for many years.
Amy Baldwin
Life Enrichment Specialist
Amy has worked at Ecumen since 2014. Joining us as a Resident Assistant, she was promoted to Life Enrichment Specialist. Amy enjoys the residents at Ecumen CountrySide and all the stories they share with her. She lives in Blooming Prairie with her son and daughter.

Mary Ramsey
Dietary Director
Joining us as a cook in 2006, Mary has worked her way up to Dietary Director. She has earned and maintains a Serve Safe Certificate and upholds our kitchen's high standards. Mary says that the residents are what keep her coming to work each day. She has three grown sons, a daughter-in-law and two grandsons, and she and her husband live on a farm outside of Blooming Prairie.

Mike Pfenning
Environmental Supervisor
Born and raised in Minnesota, Mike has worked for both Ecumen CountrySide and Brooks as the Environmental Supervisor since 2014. After enlisting in the United States Air Force, he went through basic training at Lackland Air Force Base in Texas, attended tech school and became a firefighter. After serving in the United Kingdom and Wyoming, he worked in the trucking and transportation industry. Mike married his high school sweetheart and together they have 11 children and 12 grandchildren.

Irene Rosales
Resident Services Coordinator
Irene was hired as a Resident Assistant at Ecumen Brooks and was promoted to Resident Service Coordinator. In this role, she is responsible for scheduling the Resident Assistant staff and ordering supplies for the residents. Irene also works directly with the Clinical Director to ensure care for the residents. Irene and her husband live in Owatonna and have four children